About Amy Brier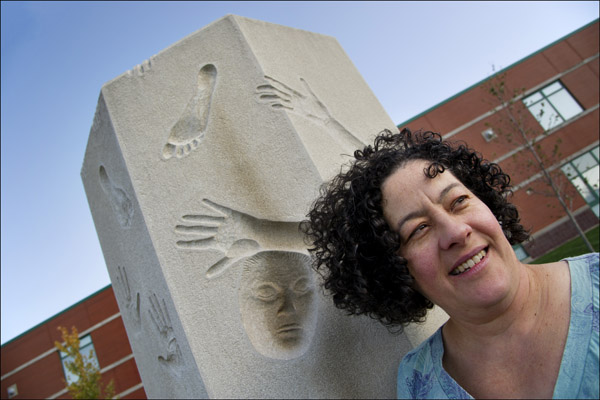 ARTIST – SCULPTOR – EDUCATOR
Lifelong interest in the arts, leading to BFA in sculpture with an emphasis on study of the human figure and MFA in sculpture.
Highly skilled carver with international training (conversant in French and German) and understanding of the relationship of sculpture to architecture.
Founder and Director of the seventeen-year-old Indiana Limestone Sculpture Symposium.
Work can be found on the Indiana University campus (Simon Life Sciences Building, Student Recreational Sports Center), in New York City (Cathedral of St. John the Divine, The Jewish Museum), and in private and corporate collections (Kohler Arts Center, Lincoln National Insurance Company, Indianapolis Zoological Society).
Signature line of sculptures: Roliquery (www.AmyBrier.com/category/roliqueries/)
Board Member, Stone Carvers Guild (www.stonecarversguild.org)
Indiana Artisan Artist (www.indianaartisan.org)
Education
Casting Workshop Practicum (2003)
National Museum, Berlin, Germany
MFA in Sculpture (1996)
Indiana University, Bloomington, IN
BFA in Sculpture (1992)
School for the Arts, Boston University
Boston, MA
Study Abroad Program (1982)
University of Georgia, Cortona, Italy
Selected Commissions
| | | |
| --- | --- | --- |
| 2016 | Constant Gardener | Arden Pl., Bloomington, IN * |
| 2016 | Millersville Marker | Fall Creek Greenway,Indianapolis IN * |
| 2015 | Roliquery | Connor Prairie Museum, Fishers IN |
| 2014 | Koi Pond | Eskenazi Hospital, Indianapolis, IN |
| 2013 | The Human Brain | Indiana University, Bloomington, IN |
| 2012 | Illuminated Fruit | City of Bloomington IN |
| 2009 | Joy | Joy's House, Indianapolis, IN |
| 2009 | Spider II | Residence, Bloomington, IN |
| 2008 | Impression | Ivy Tech,Bloomington, IN |
| 2008 | Arts Leadership Awards | BAAC, Bloomington, IN |
| 2007 | Respect | 2007 RESPECT Greenway Trail, Winona Lake, IN |
| 2006 | Biological Forms | Simon Life Sciences Building, IU, Bloomington, IN |
| 2005 | Fountain | Residence, Indianapolis, IN |
| 1999 | The Four Seasons | White River Gardens, Indianapolis, IN |
* In collaboration with Sharon Fullingim
Professional Experience
Carver, Restorer (1990)
Cathedral St. Jean, Lyon, France
Stone Carver (1987-1993)
Cathedral of St. John the Divine, New York, NY
Marble Workshop (1987)
Studio Sem, Pietrasanta, Italy
Teaching Experience
Visiting Professor – Sculpture (Summer 2012)
University of Georgia Study Abroad Program, Cortona Italy
Assistant Professor of Fine Art (2010-present)
Ivy Tech Community College / Bloomington, IN
Executive Director – Indiana Limestone Symposium, Inc (1997-present)
Bybee Stone Co. / Ellettsville, IN
Instructor – Beginner Carvers Workshops (2007-present)
Ivy Tech Community College CLL / Bloomington, IN
Instructor – Stone Carving Workshop (2009)
Peninsula School of Art, Fish Creek, WI
Instructor – Stone Carving Class (2007)
Indianapolis Art Center
Instructor – Stone Carving Sculpture Workshop (2002 and 2003)
Bildhaurerwerkstatt im Kulturwerk des bbk berlins GmbH / Berlin, Germany
Instructor – Carving by Hand Workshop (2002)
Bildhaurerwerkstatt im Kulturwerk des bbk berlins GmbH / Berlin, Germany
Visiting Assistant Professor, Sculpture (2000-2001)
School of Fine Arts, Indiana University / Bloomington, IN
Instructor – Stone Carving, Drawing Classes (1994-2002)
John Waldron Arts Center / Bloomington, IN
Instructor – Beginner Carvers Workshop (1997-1998)
International Stone Sculptors Symposium / Mt. Vernon, WA
Instructor – Hand Carving Workshop (2006)
NWSSA Symposium / San Juan Island, WA
Instructor – Carving Workshop (1995)
John Muafangejo Art Center / Windhoek, Namibia
Awards, Residencies, Public Involvement
| | | |
| --- | --- | --- |
| Grantee | Indiana Arts Commission/Dept. of Natural Resources | 2016 |
| Grantee | Indiana Arts Council, Grants for Individuals | 2010 |
| Grantee | Indiana Arts Council, Grants for Individuals | 1998 |
| Science of Art, Carving Demo | WonderLab Museum, Bloomington, IN | 2008 – 9 |
| Limestone Trail Committee Member | Convention and Visitors Bureau, Bloomington, IN | 2008 – 9 |
| Visual Art Committee Member | Lotus World Music and Arts Festival Bloomington, IN | Current |
| BEAD Committee | Bloomington Mayor's Office for Economic Development | 2007 – 8 |
| Roman Art from the Louvre | Gallery Talk,Indianapolis Museum of Art | 2007 |
| Invited Artist | 40th International Stone Symposium, Krastal, Austria | 2007 |
| Artist Residency | Kohler Co Art-in-Industry Kohler, WI | 2000 |
| Visiting Artist | Natal Techikon, Durban, South Africa | 1995 |
Exhibitions
| | | |
| --- | --- | --- |
| Art in the Airport | Indianapolis International Airport, IN | 2017 |
| Roliqueries | New Harmony Gallery of Contemporary Art | 2013 |
| Midwest Exhibition | Owen County Art Museum, Owensboro, KY | 2011 |
| Bloomington/Katmandu | Tibetan Cultural Center, Bloomington, IN | 2011 |
| Annual Sculpture Show | Yew Dell Gardens, Louisville, KY | 2011 |
| Artifacts | Indianapolis Art Center, IN | 2010 |
| Art from the Heartland (Best of Show) | Indianapolis Art Center, IN | 2010 |
| Art off the Wall | Art off the Wall Indiana State Museum, Indianapolis, IN | 2009 |
| Women Exposed | The Lodge, Bloomington, IN | 2009 |
| Mid-States Art Exhibit (Award) | Museum of Art and Science, Evansville, IN | 2008 |
| Limestone Heritage Exhibit (Award) | Limestone Heritage Festival, Bedford, IN | 2008 – 9 |
| K08 | [kunstwerk] krastal, Einode, Austria | 2008 |
| Winter Showcase | Prima Gallery, Bloomington, IN | 2008 |
| Limestone (CaCO3) | John Waldron Art Center, Bloomington, IN | 2008 |
| Worldpool | [kunstwerk] krastal, Einode, Austria | 2007 |
| Solo Exhibition | John Waldron Art Center, Bloomington, IN | 2007 |
| Fragmente | Bellevue-Saal, Wiesbaden, Germany | 2005 |
| Solo Exhibition | Böke Museum, Leer, Germany | 2004 |
| White Show | Krasl Art Center, Saint Joseph, MI | 2004 |
| Pattern | Galerie Nord, Berlin, Germany | 2004 |
| Bees and Balls | Abguss Sammlung Antiker Plastik, Berlin, Germany | 2003 |
| Artists and Children | Moabit School Garden, Berlin, Germany | 2003 |
| December Salon Galerie | Taube, Berlin, Germany | 2002 |
| Krasl Biennial Invitational (Award) | Krasl Art Center, Saint Joseph, MI | 2002 |
| Indiana University Faculty Show | IU Art Museum, Bloomington, IN | 2001 |
| Solo Exhibition | galerie hertz, Louisville, KY | 2001 |
| Krasl Biennial Sculpture Invitational | Krasl Art Center, Saint Joseph, MI | 2000 |
| H x D x L x 6 | Herron School of Art Gallery, Indianapolis, IN | 2000 |
| Center for Arts Exploration | The Children's Museum, Indianapolis, IN | 1999 |
| Matter Mind Spirit | National Museum of Women in the Arts, Washington, DC | 1999 |
| Limestone: 3 Perspectives | Evansville Museum of Art and Science, Evansville, IN | 1998 |
Bibliography
Indianapolis Star
Bloomington Herald-Times
Bloom Magazine
NUOVO
Cutters and Carvers of the Cathedral, George Ancona, Lothrop Lee & Shepard
Stories in Stone, Travels Through Urban Geology, David B. Williams, Walker and Co.
Limestone Lives, Katherine Ferrucci, Indiana University Press
Lyon, Primatiale des Gaules, Didier Repellin and Nicolaus Reveyron, Editions La Nuee Bleue